Pope Francis, Trip to Iraq, March 5-8, 2021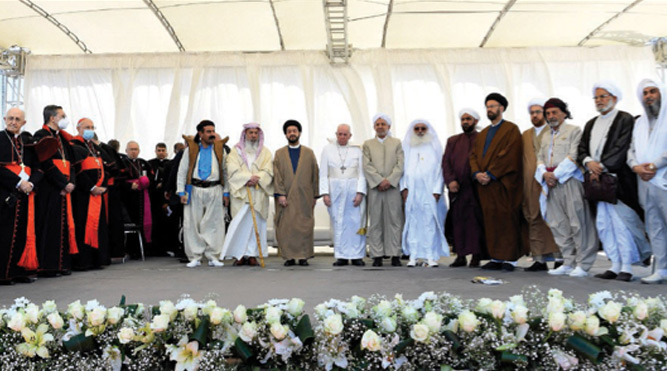 Pope Francis' trip to Iraq, March 5-8, 2021 highlights our dependency upon inclusiveness and respect among all peoples, holds an awareness of democracy as a fundamental human right. Central to the Pope's visit is his clearly expressed esteem for the three ancient religions of Jews, Christians and Muslims. In his visit to the city of Ur, considered the cradle of civilization and the birthplace of Abraham, the Pope took his place among the religious leaders of the Family of Abraham calling for interreligious fraternity and respect.
A purpose that impels Pope Frances, a response to the Gospel mandates to respect, love and treat all people justly, one that is also clearly stated in The Documents of the Second Vatican Council. The sojourners of all faith traditions and spiritual paths remain central to Shem Center's mission as well.
During his speech, the pope praised "the young Muslim volunteers of Mosul, who helped to repair churches and monasteries, building fraternal friendships on the rubble of hatred, and those Christians and Muslims who today are restoring mosques and churches together."
My Dominican Family has had a presence in Iraq for centuries and continues today with several communities of Dominican Sisters ministering there, teaching, nursing and caring for refugees.
Shem Center for Interfaith Spirituality
708 North Harvey Avenue
Oak Park, IL 60302
(708) 848-1095
shemcenter1993@gmail.com
Photo Credits: Emory Mead, Stephen B. Starr, Joseph Kilikevice
The Shem Center for Interfaith Spirituality website is awarded a 2022 American Digital Design Award for excellence in design and user experience.